Light gauge steel technology fits in quite well in the digital age where instant gratification seems to be the norm. Judging from recent consumer trends, the millennials will develop a liking for anything that's lighter, faster and gives better value for money.
Consequently, many millennials would opt for light gauge steel technology if they were made to understand the myriad of opportunities it presents. Sure, we all know about structural or heavy steel as a common construction material favored for large construction projects without which, skyscrapers wouldn't be in existence.
Steel, unlike masonry, wood and other construction support materials, has a terrific strength-to-weight ratio and is very flexible: it can bend without cracking. That's why a steel building can flex when pushed to one side either by great wind pressure or an earthquake.
Light gauge steel construction gives you speed, strength and sustainability at a fraction of the weight and at a more affordable cost compared to conventional construction. The difference between structural steel and light gauge steel lies in how they are manufactured.
Light gauge steel sections are cold formed sections, meaning that the sections are shaped into strong "C" or "Z" forms, capable of holding heavy loads, at room temperature.This is in contrast to thicker hot rolled sections, that are shaped while the steel is molten hot to form structural steel.
Light gauge steel is then coated with zinc (called galvanized) to protect it from corrosion. From the manufacturing process, lower production costs are realized since LGS does not involve heat input and its associated expense.
The foundations for an LGS structure will be similar to the conventional masonry building method for example strip footings etc. but will require less reinforcement because steel frames are lighter than masonry frames.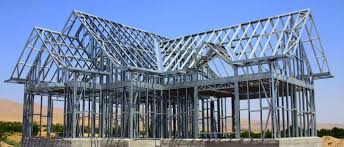 In construction, time equals money. LGSF system, design, production & shipping can happen within days or weeks, instead of months. Because most of the construction components are manufactured in the factory, frame erection and construction at site can begin immediately due to the pieces being exact specification, pre-cut, pre-punched & pre-marked.
No additional work to be done at site. Additional advances in the speed of projects are attributed to the near 100% computer controlled accuracy(+/-0.5mm) of the frame ensuring a near 100% square and straight frame which benefits other trades. Its lightness makes for easy handling on site that contributes to faster erection.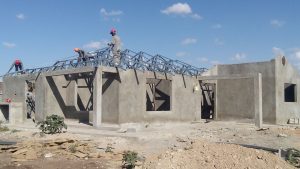 The uptake of LGS in Kenya is now fast growing with developers mainly testing it as a truss structure replacing traditional timber trusses. Unlike wood, steel is stronger and more durable.Steel does not burn or rot and is not susceptible to moisture damage, termites or other wood destroying insects.
It helps preserve our environment for the future by decreasing the consumption of wood. It is 100% recyclable, can be used again and again, without losing its properties.
An economical LGS frame system is increasingly being used in America, Europe, Australia and New Zealand as a serious alternative to lumber in residential construction where wood frame construction was previously popular.
Light gauge steel framing has a few minor disadvantages first being with regard to its fire resistance properties. Although noncombustible and thus will not fuel the fire, the steel studs are directly affected by high temperatures.
Since there is not much mass to the steel studs and joists in this type of construction, the steel trusses and bar joists are likely to be weakened quickly by heat and are prone to early collapse.
An easy way to work around this is ensuring the steel is clad by fire resistant material and provide cavity insulation material.This will protect the steel sections from heating up rapidly when exposed to fire.
The issue of thermal conductivity has been a concern especially since steel is a good conductor of heat. This could potentially result in increased heating costs in cold climates, and in hot climates heat gain could result in moisture damage. Again, insulation placed between the steel frame (batt insulation), will give a better overall thermal performance of LGSF walls.
The pros far outnumber the cons and the technology can be widely used in residential, commercial, and industrial construction.
Related