Globally, the wealthiest individuals in any country always have stakes in a construction company or within the real estate industry. The industry is perceived to be highly lucrative but with high risks.
If you are a budding entrepreneur who is seeking an impressive return on your investments then construction is the way to go. But first, you must ensure your business is properly registered and meets legal compliance.
The process of starting a construction company is the same as registering any other company but with an additional step of registering with the National Construction Authority (NCA).
There are also some additional requirements for foreigners who want to start operating businesses in Kenya.
How to start a construction company: a step by step guide
1. Register with the registrar of companies
A contractor or construction firm is required to hold a certificate of incorporation from the registrar of companies in Kenya. This means that the firm must be registered as a legal company within the country, either as limited liability, sole proprietorship or as a partnership company.
2. Register your company with NCA
A contractor applying to operate in Kenya must prove tax compliance by submitting the below documents to National Construction Authority (NCA).
Valid PIN,
VAT
Income Tax compliance certificates
Evidence of Bank Account that has been opened under the name of the contractor company
All the directors must also forward their CVs to the National Construction Authority.
The full list of documents required for registration under NCA can be accessed here.
Before registration, the firm needs to be aware of the class of construction that they intend to apply for. NCA has 7 classifications of contractors depending on the scope of work the company is allowed to undertake. This ranges from NCA 1 which enjoys an unlimited contract value to NCA 7 which can undertake contracts not worth more than sh20 million.
The requirements for each class will vary depending on the category. A company to be registered under NCA 1 is required to have at least one director with a degree in a building and construction-related field while a director with a trade test is required for registration under cadre NCA 7.
The registration fee as well as the annual license renewal fee also varies across the categories ranging from KSh10,000 to KSh50,000 and KSh5,000 to KSh10,000 respectively.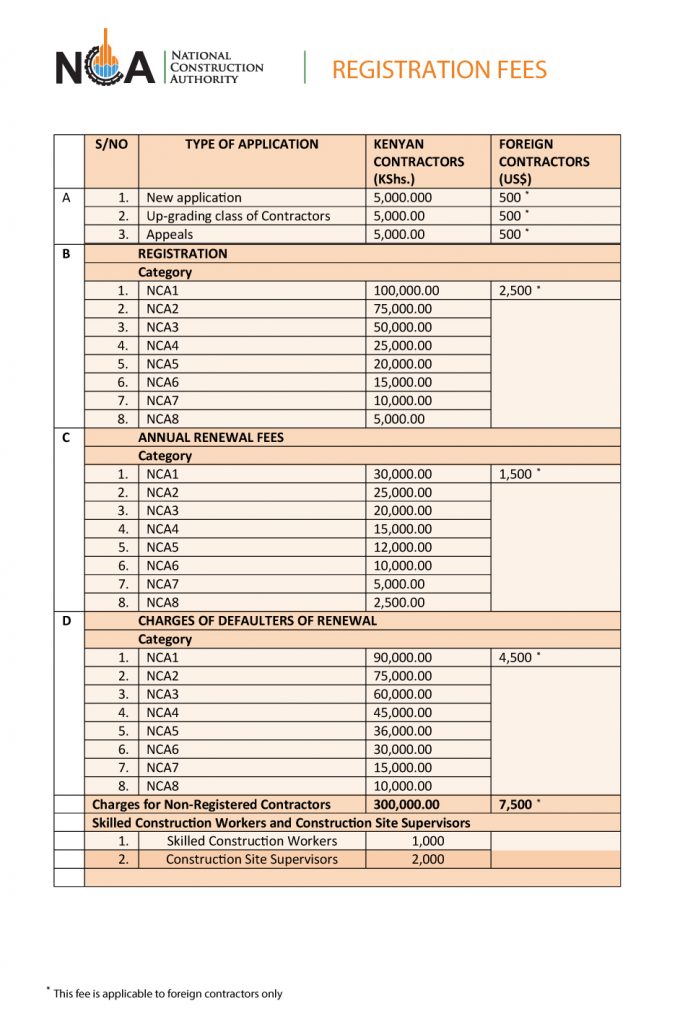 3. CR-12 Letter and AGPO certificate
These are additional steps that only apply to those businesses intending to go for government (national or county) tenders.
You have to register with the Access to Government Procurement Opportunities (AGPO) for a certificate which prequalifies you to bid in the reserved tenders.
In order to apply for a CR-12 letter, a letter will need to be written on your company letterhead requesting Company Registry to give you a CR-12 letter that contains a list of directors in your registered company. You will also need to attach a copy of the Certificate of Incorporation on your request.
4. Additional requirements for foreign construction company.
Foreign contractors are issued with a clearance certificate that remains valid for only a specific period. They are required to satisfy the NCA that they are in Kenya for only that specific project.
The firms are required to lodge an affidavit with the Authority that they shall not carry out any other construction project in Kenya once they complete the project for which they have been cleared.
Foreign firms should also submit a commitment to transfer technical skills not available locally to locals as the NCA may determine from time to time.
Upon successful application, the contractor is issued with a 'Certificate of Registration'
Foreign contractors pay a registration fee of Sh250,000 and are restricted to categories of tenders they win.
Foreign contractors applying for temporary registration are required to commit to sub-contract "not less than 30 percent of the value" to local contractors.
Foreign contractors are not cleared to carry out work below NCA 1 category.
Related