The manner in which the authorities carried out recent demolitions fell short of occupational safety and health standards, revealing the irony of a government tasked to uphold regulations that is in itself unable to comply with.
Demolitions are one of the most hazardous construction activities. The works require proper planning and constant supervision from a competent engineer to ensure all safety requirements are met and accidents are avoided.
An engineering survey should be undertaken prior, to establish where existing utilities such as gas, electricity, water and telecommunications services are. These need to be isolated or disconnected before demolition work begins and if this is not possible, pipes and cables must be labelled clearly, to make sure they are not disturbed.
In the absence of a perimeter wall or security fence, barriers or hoardings become necessary to isolate the demolition site from the public, thus preventing unauthorized access and trespassing.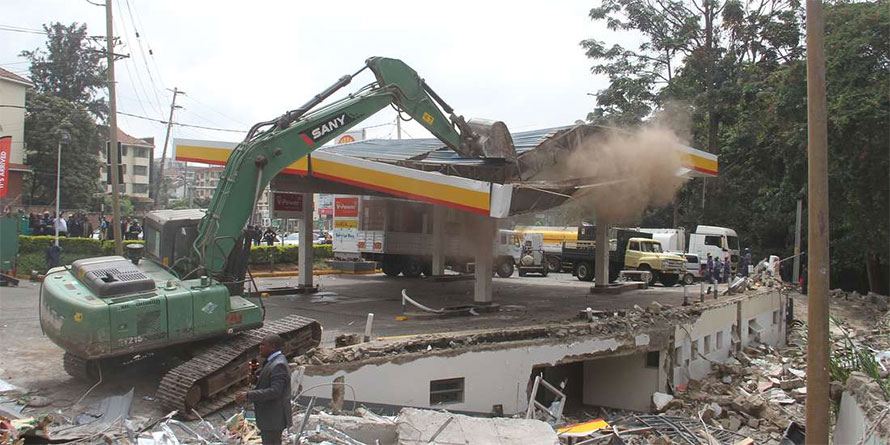 It is mostly malls that were targeted in the demolition spree. Their location next to busy roads meant that there was high risk of passers-by getting injured by the premature and uncontrolled collapse of structures or by flying debris. A covered walkway, in conjunction with a catch platform, would have provided protection to the pedestrian traffic against falling debris.
Method of demolition must be carefully selected depending on the existing site conditions. Common practice is to demolish in a descending order, storey by storey. Ignoring this rule is catastrophic and snippet of how accidents happen can be seen in this video clip showing a how a section of UKay Mall came tumbling down on an excavator while demolitions were ongoing.
All demolition works should proceed in such a way that it causes the least damage and nuisance to adjoining buildings and members of the public. Once demolitions are complete, the site should be cleared of debris and leveled.
Related